Will Ohio Be Next to Legalize?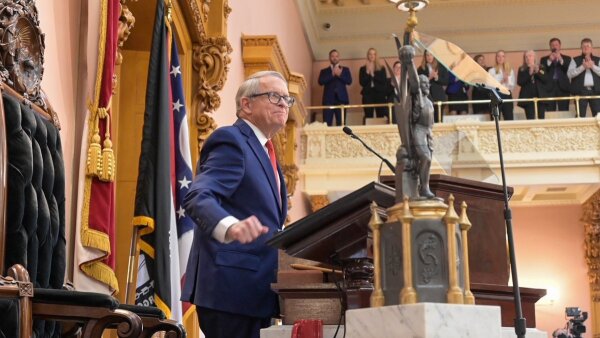 The push to legalize recreational marijuana in Ohio is heating up as the state inches closer to a potential ballot measure this November.
Organizers from 'The Coalition to Regulate Marijuana Like Alcohol' have been collecting signatures for their proposal, which would regulate the cultivation, manufacture, testing, and sale of marijuana products for Ohioans 21 and up, since last summer. But with just over two months until July 5th – the deadline to get the measure on the ballot this fall – it is still an uphill battle for marijuana advocates in the state.
Though recreational marijuana is legal across state lines in Michigan, obstacles remain alive and well in Ohio. Governor Mike DeWine has long expressed concerns about the potential for negative effects of legalization on the state's youth, and a spokesperson from his office has highlighted that "states that have legalized marijuana have seen significant increases in Emergency Room visits and calls to poison control hotlines related to the consumption of marijuana by children."
The proposed measure in Ohio would allow possession of up to 2.5 ounces of marijuana or 15 grams of marijuana extract, permitting individuals 21 and up to purchase marijuana at retail locations or grow up to 12 plants in a private residence. Executive director Pricilla Harris of the 'sensible movement' – a group instrumental in decriminalization efforts that have already helped over 2.5 million people in Ohio – has expressed her support for legalization, stating that "if it does make it to the ballot, I will support it."
In order for recreational marijuana to be placed on the November ballot, advocates need to collect an additional 124,000 signatures on top of the 130,000 already collected from registered voters in 44 of Ohio's 88 counties before July 5th. Meanwhile, a recent poll from The Ohio State University shows that 60% of respondents favor legalizing marijuana for recreational use, giving hope to those looking for a potential 'yes' vote this November.
Advocates continue their push to legalize cannabis in Ohio with hopes that the measure will be placed on the ballot and passed come November. If passed, the bill would create a new industry in Ohio with jobs and businesses related to cannabis cultivation, testing, and retail sale that would give a much-needed economic boost to the state.
Whether or not it will make it on the ballot this fall remains to be seen, but as Ohio inches closer to July 5th, advocates in the state remain hopeful that their push will pay off and that recreational marijuana will soon be legal in Ohio.
Reference