Senate Floor Speech By Bernie Sanders, Marijuana Legalization To Jumpstart Policing Reform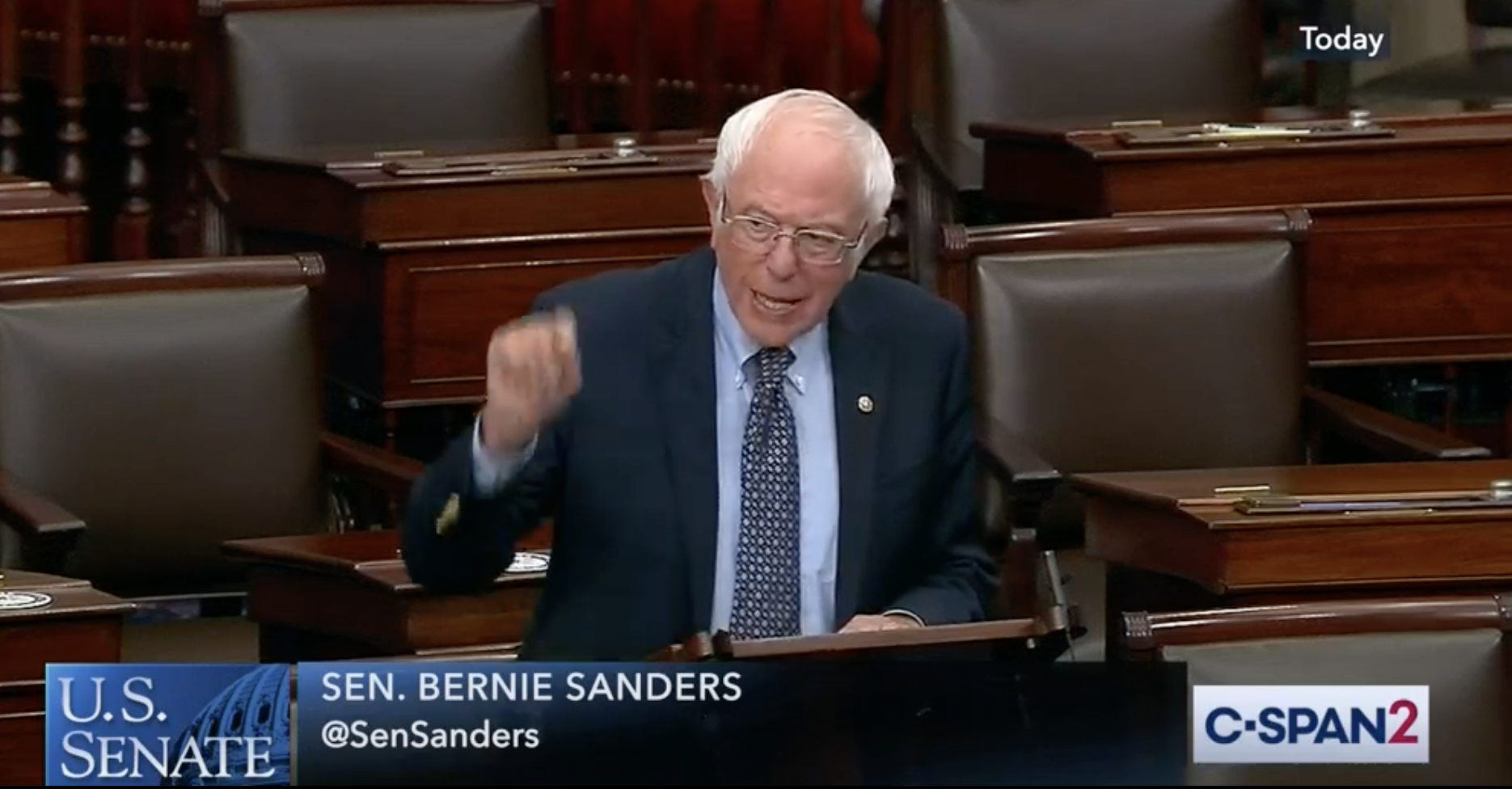 In the current climate, policing reform that addresses racial injustices is on everyone's mind. On Wednesday, Senator Bernie Sanders (I-VT) stated that congress should legalize marijuana on a federal level.
His speech covered an array of reformations that would effectively change policing and criminal justice policies.
With the growing concerns and outrage over police brutality against African Americans, Sanders and several other policymakers have argued that limiting interactions due to marijuana infractions would greatly reduce such encounters.
Near the end of his 20+ minute speech, he states, "Finally, and certainly not least importantly, we need to legalize marijuana. In the midst of the many crises we face as a country, it is absurd that, under the federal Controlled Substance Act, marijuana is at Schedule 1, along with killer drugs like heroin."
He continues, "State after state has moved to legalize marijuana and it is time for the federal government to do the same. When we talk about police department reform, we must end police officers continuing to arrest, search, or jail the people of our country, predominantly people of color, for using marijuana."
During a virtual town hall event with Senator Cory Booker (D-NJ) last week, he made similar remarks. He also stated that racial disparities in marijuana enforcement is an example of systemic injustice that underlies the frustrations we now see in the wake of the deaths of George Floyd and Breonna Taylor.
On Wednesday, in conjunction with this sentiment, Rep. Lou Correa (D-CA) stated at the House Judiciary Committee markup on criminal justice legistlation focused on policing, that ending marijuana prohibition along with policing reform would stimulate racial justice.
"As you know, when we talk about arrest disparities, specifically cannabis-related, over 650,000 Americans are arrested every year for violating cannabis laws," he said. After parallel sentiments to Senator Sanders, he adds, "Congress, in my opinion, must move to address decriminalizing cannabis."
Two members of the House asked their fellow congressional democrats to keep marijuana reform in mind amid the debate over policing and racial injustice with a circulated sign-on letter.
Earlier this month, California Gov. Gavin Newsom (D) brought up marijuana as a "civil rights" matter.
Virginia Gov. Ralph Northam (D) said that his state has addressed raical inequities through the passage of cannabis decriminalization legislation this year.
There has also been a renewed incentive in New York to pass criminal justice reform legislation that includes the bill that would decriminalize marijuana.
The fact that the trend of criminalization is far more harmful than marijuana itself, is readily acknowledged by the head of a federal health agency and echoed by countless others. NORML, a group working to reform marijuana laws, recently sent an open letter to Nora D. Volkow, M.D., Director of the US National Institue on Drug Abuse (NIDA), asking her to "recognize the detrimental impact that racially-discriminatory marijuana law enforcement has had on the public health of communities of color."
This was in response to a blog post authored by Director Volkow where she acknowledges, "White and Black/African Americans use drugs at similar rates, but it is overwhelmingly the latter group who are singled out for arrest and incarceration."
In light of recent events, many others need to openly recognize that anti-drug laws have historically been used "to suppress people of a particular race."