Senate Democrats eye legalization as a priority for 2021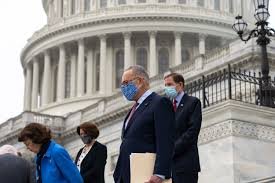 After securing a simple majority in the Senate after the Georgia Senate run-off elections, Democrats are hoping to take advantage of the unity in government and finally pass legislation that will legalize marijuana at the federal level. Because the failing War on Drugs has negatively impacted communities of color, Senate Majority Leader Chuck Schumer is joined by fellow Senators Cory Booker and Ron Wyden as they push comprehensive cannabis reform in the earlier part of this year.
In fact, marijuana legalization will not only be an effort in the Senate, Democrat leaders have pledged to make it a priority. The Co-chair of the Congressional Cannabis Caucus Earl Blumenauer could not be happier with the announcement. After years of marijuana proposals being crushed by former Senate Majority Leader Mitch McConnell, a new Senate may provide light at the end of the tunnel.
For example, the Democrats passed the MORE Act in the House of Representatives last year in December. Congress had adjourned and the legislation never made it through the Senate. The MORE Act is anticipated to be reintroduced by the current Congress.
Currently, the Senate is split 50-50, with Vice President Kamala Harris being the deciding vote if there were to be a tie, giving Democrats an advantage. In the past, President Joe Biden has signaled that he opposes legalizing marijuana at the federal level. However, with the popularity of legalization on the rise, Biden may find himself in a compromise with members of his own party.
As the fight to legalize at the federal level continues, states move forward with legalization efforts of their own. Marijuana remains a Schedule I substance in the eyes of the law. However, if the federal government was successful in ending the failing War on Drugs at the federal level, states will be able to pass legalization efforts with more ease and less resistance.
Please share your
marijuana pictures
with the community!