House to Tackle Marijuana Decriminalization this Month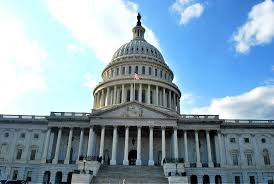 Legislation in the US House of Representatives seeks to remove marijuana from the list of federally controlled substances, expunge federal cannabis-related arrests and convictions, and allocate appropriate resources for communities negatively impacted by the war on drugs. News of the legislation was released by House Majority Whip James Clyburn in an email last week.
The Marijuana Opportunity Reinvestment and Expungement Act (MORE) of 2019 was introduced by Rep. Jerrold Nadler to the House Judiciary Committee, co-sponsored by over 50 Representatives, and passed by a vote of 24-10 in November.
The bill is expected to pass the House this month and move to the Senate where its lead sponsor is Vice Presidential candidate Sen. Kamala Harris. Majority Leader Mitch McConnel has previously expressed he does not plan to endorse the legislation. Democratic leadership argues that marijuana legalization should be left up for the states to decide, whereas Republican leadership appears to prefer cannabis remain off of the ballot this election cycle.
Recreational marijuana use is currently legal in eleven states and the District of Columbia. Medical marijuana is legal in 22 additional states. Gallup polls and the Pew Research Center have recently found that about two-thirds of Americans support legalizing recreational marijuana. Data suggests that Democrats are more supportive of the measure than are Republicans.
Marijuana is currently listed as a Schedule I substance under the Controlled Substances Act. Other schedule I substances include heroin, LSD, and ecstasy. This will be the first time that Congress will ever vote to remove marijuana from this classification. Removing cannabis from the classification will give state legislators more liberty in legalizing at the state level.
Once the bill passes the House, it is unlikely to move forward. Senate leadership has made it clear that marijuana legalization is not a priority. If the bill were to pass the Senate, President Trump would then have to decide whether or not he will sign. Marijuana legalization is more likely to occur after the 2020 election cycle, when candidates are not campaigning in more traditionally conservative territories.
What are your thoughts? Add a post on the Marijuana Forums here on 420portal.