Despite marijuana's growing popularity, law enforcement still enforcing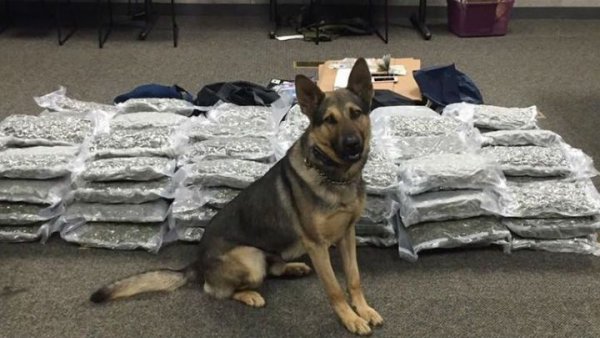 Marijuana sales have spiked during the pandemic, both legal and illegal, which should be of no surprise to anyone. However, regardless of the popularity cannabis legalization is gaining, police continue to crack down on marijuana dealers and those possessing felony amounts. The most latest victim to the K9 sniff test was California man Christopher Colburn, who faces a Level 5 felony charge for dealing and a Level 6 felony charge for possession with a prior conviction.
Colburn was driving along an Indiana highway near Lowell, when his van was stopped for a simple moving violation. During a search, where the police utilized a four-odor canine, the revealed 1,264 individually sealed bags of weed. The officers estimated the street value of the seizure from anywhere between $5.7 million and $8.5 million.
The 31-year-old Colburn could likely face a punishment of up to six years in prison with a fine of up to $10,000, under Indiana state law. In Indiana, possession of any amount of marijuana is a Class B misdemeanor that carries a sentence of up to 180 days in prison and a maximum $1,000 fine.
Indiana remains one of only 14 states that lacks any medical marijuana program. While marijuana has been decriminalized, it is still illegal and can carry a sentence that will likely have an impact on future employment prospects. Currently, the state permits the possession and sale of CBD products containing less than 0.3% of THC.
Marijuana prohibition is slowly but surely becoming a trend of the past. However, current laws still stand and those who break the law may still be subject to fines and penalties. Marijuana is also a booming business, both legally and illegally. With its popularity growing, distributors are likely to take more risks, while police continue to keep an eye out for criminal amounts of the plant.
Do you have any stories such as this? We would like to hear them in our
marijuana forums
here on the site.