Beto O'Rourke promises to legalize marijuana once elected governor of Texas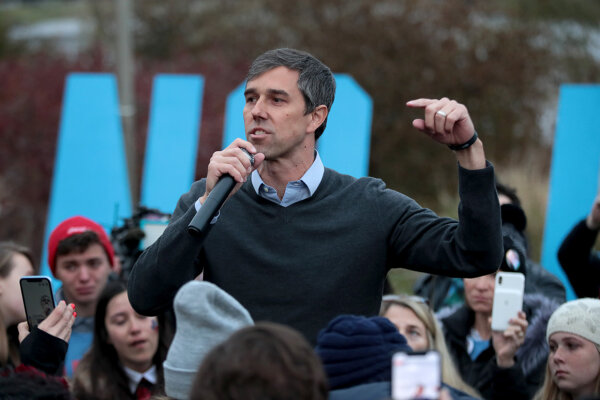 Texas governor-hopeful Beto O'Rourke promises a crowd gathered in Austin, Texas that he will legalize marijuana in the state once he is elected governor. During his speech, he noted that many people across the country agree on legalization, regardless of political affiliation. The Texas state legislature, however, has been hesitant in moving forward with meaningful legislation that permits the recreational use and sale of cannabis.
O'Rourke has been advocating marijuana legalization publicly since he served on the El Paso City Council in 2009. During his time as a councilman, he pushed for a resolution calling on members of Congress to have an "honest, open national debate on ending prohibition." While the resolution unanimously passed the city council, then-Mayor John Cook vetoed the measure, explaining that the city would risk losing federal funds if they continued with their efforts.
Running for governor of Texas is O'Rourke's latest venture. He previously ran for Senate and then for President, both of which resulted in failed campaigns. In 2012, he successfully defeated Rep. Silvestre Reyes in a primary where Reyes attacked O'Rourke's pro-legalization stance. Many advocates in the state saw the victory as a shift in momentum for the movement.
While serving in Congress, O'Rourke proposed and sponsored a number of pieces of legislation aimed at rolling back marijuana's current prohibition. In 2017, he introduced a bill repealing the rule preventing federal funds from going to states that don't enforce revoking or suspending drivers' licenses as a means for punishing drug offense convictions. He co-sponsored a bill that would allow students convicted of nonviolent marijuana possessions to maintain eligibility for federal student aid. These are just a few proposals among the many that O'Rourke supported during his time in Congress.
Marijuana in Texas remains illegal for recreational use. Possession of up to two ounces is a class B misdemeanor that has a maximum 180-day prison sentence or a fine of up to $2,000. Texas has a low-THC medical marijuana program that recently welcomes thousands of now-eligible patients. Marijuana legalization does not appear to be on the current administration's agenda, but that could change if O'Rourke secures the governor's mansion.